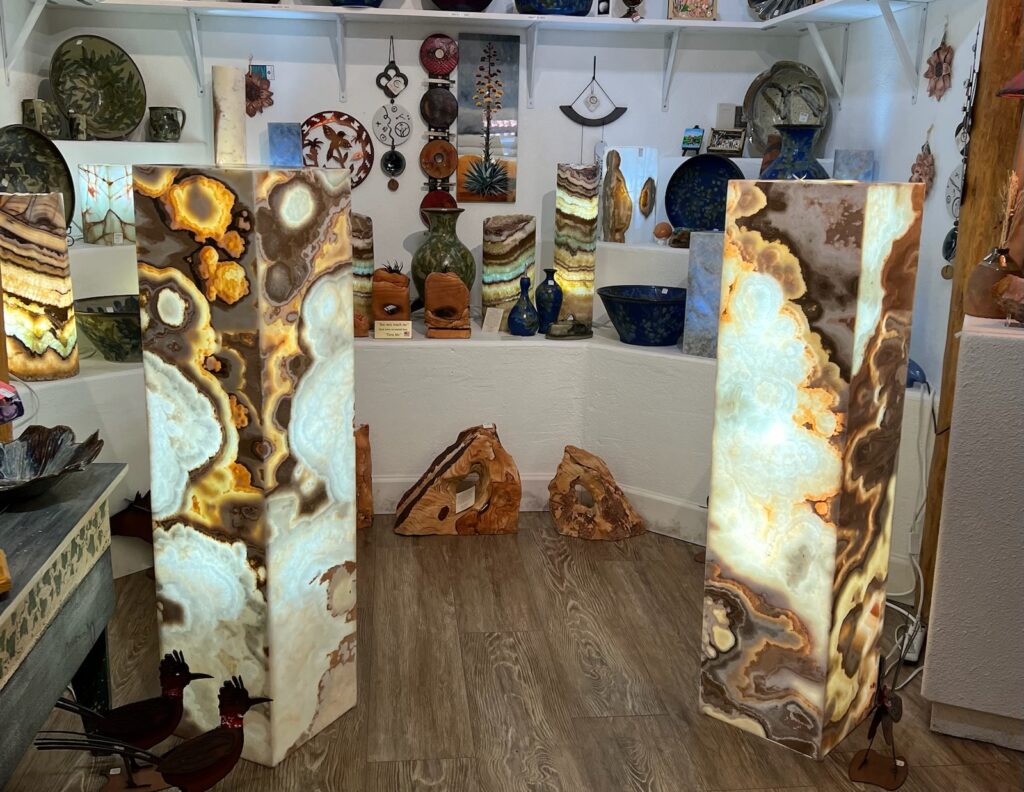 Earth's Beautiful Creation – Onyx Lamps
One of the most beautiful artistic creations that Zonies Galleria carries is the Onyx Lamps.  Each one, direct from the earth's tapestry of rainbow crystals is unique and one of a kind.  These beautiful rock/crystal lamps are handmade and come in various shapes, colors, and sizes.  The stone itself is harvested in Mexico – known for the finest quarries of Onyx.  Each piece is cut from a single section/vein of onyx.  The cylinder shaped Onyx lamps are taken from a single solid chunk of raw Onyx then cut, hollowed out, sanded smooth, and then a light fixture or two are added.  The squares and rectangle Onyx lamps are also taken from a single slab of Onyx then cut, polished, and mitered together (think of granite counter tops) with the addition of light fixtures.  These beautiful lamps can range in size from one foot tall to six feet.  Onyx is known for its variety of bright colors and translucent properties.  It is an extremely hard crystal, yet glows when lit up.
What is Onyx and How is it Formed?
Onyx/Chalcedony is calcified sediment from lakes and ponds that are millions of years old.  The different colors come from the mineral content of the sediment and pressure created as more mass accumulates on top of it over a vast period of time.  Many of the color combinations are limited based on the veins uncovered and the minerals in that vein.  This means that when one connects with a piece, its best to purchase it as the color combination may never be found again.
A Rainbow of Colors
Onyx comes in a wide variety of colors. Some even contain shapes of stalactites and other anomalies. Below is a list of colors we have had and may currently have in our gallery:
Aqua
Pink
Emerald Green and Variations of Green
Light, Dark, and Neon Blue
Earth Tones – Brown, Black, Grey
Yellow
Orange
Red
Purple
Clear
White
Healing Aspects of Onyx
Onyx is a type of Chalcedony, which is a nurturing stone said to promote relationships, positive energy and absorb negative energy.  It is believed to bring the mind, body, emotions and spirit into harmony.  Chalcedony/Onyx can instill feelings of benevolence and generosity.  It alleviates hostility and transforms melancholy into joy.  It eases self-doubt while creating openness and enthusiasm.  This crystal absorbs and dissipates negative thoughts, emotions and bad dreams.
Our Onyx lamps add beauty, ambiance and healing energy to any home.  On dimmers they can be subtle or brilliant in their appearance.  They are truly an interactive, meaningful addition to ones environment.
Zonies Galleria has a wide variety of Onyx lamps in different sizes, shapes, color combinations and price ranges.  We have shipped the Onyx lamps through-out the United States and Internationally.  Call or email us to see our current selection.  We are happy to Facetime or send pictures of our inventory to you.